Orchid Isle Windchimes
WORLD LEADER IN WINDCHIME TECHNOLOGY AND INNOVATION


PROUDLY PRESENTS THE ORIGINAL, COMPUTERIZED, INDOOR WINDCHIME

"WINDLESS WINDCHIMES"TM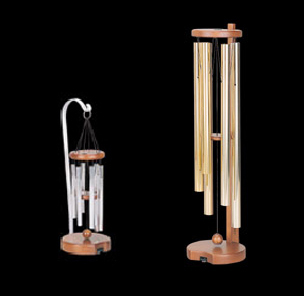 We hope you will be thrilled by the soothing natural sound and fascinating concept
behind the world's first computerized version of the traditional outdoor wind chime.
By using state of the art computer technology, combined with the principals of Non-Linear Dynamics (Chaos Theory),
we have been able to exactly recreate the wonderful natural effect of a gentle breeze on precision-tuned windchimes.

The pattern of movement is random, so the beautiful sound is always changing.
You can adjust the quiet period, or pause between movement of the chimes
from a steady breeze to just a light whisper, once in a while.

The effect is natural, and truly remarkable: A Windless Windchime!
These chimes were designed in California and made by dedicated craftspeople at the Orchid Isle Windchime Company.
We build each chime by hand, one-by-one, and give the very closest attention to every detail.
This chime is the first of its kind in the world, and as a leader at the forefront of the windchime industry,

Our precision tuned Windless Windchimes are available in brass or silver color tubes
25" Large Size: $225
16" Small Size $125
$15 Shipping & Handling for FedEx Ground Home Delivery
Please contact us if you need other shipping arrangements
Visa, Mastercard and Paypal accepted.
To place your order, please call me directly at: 619-889-8166
or email: sschutze@gmail.com
We have stock in all categories and can ship immediately
Thank you for choosing Orchid Isle Windchimes.

Stan Schutze
San Diego, USA
U.S. Patent No. 5,072,208
Copyright 2013 Stan Schutze
Orchid Isle Windchimes and Windless Windchimes are trademarks of Stan Schutze Giftware, established in 1979